!—SCRIPT TO BE ADDED Paste this code as high in the head of the page as possible:-->
HIGHLIGHTS
WE HAVE THE BEST READING PROGRAMME!
Why is I Can Read the world's best reading programme? Why is I Can Read the parent's system of choice?
Find out more >
WHAT IS THE BEST APPROACH TO LEARNING LITERACY SKILLS?
A good instructional approach to reading lessons will make explicit the manner in which sounds combine to create words. It will teach students that accessing the sounds accurately makes pronunciation clearer.
Find out more >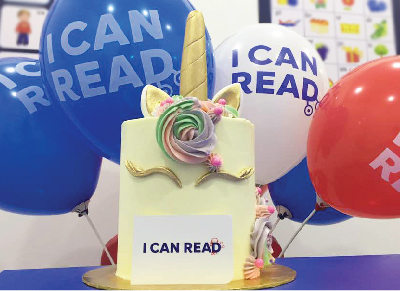 I CAN READ KOTA KEMUNING GRAND OPENING
It is with great excitement that we can announce the much-anticipated opening of our newest I Can Read centre in Kota Kemuning, Shah Ala
m!
Find out more >
WHY WE LOVE WHAT WE DO?
At I CAN READ, we strive to help children overcome not only reading difficulties but to help them excel and build a strong foundation in English literacy.
Being able to witness the progression of our students reading, speaking and then writing marks milestones in their life that we want to be a part of.
How do we achieve this on a consistent basis? It is definitely not by chance or magic. It is a result of deliberate design in the I Can Read System. Unlike most literacy teaching methods which are derived from a diverse range of sources, with no consistent methodology - our system is based on disciplined research, (specifically Linguistics Science) and underlined by in depth research on teaching of English Literacy and Child Psychology.
This is what gives us consistent results.
WHY WE LOVE WHAT WE DO?
At I CAN READ, we strive to help children overcome not only reading difficulties but to help them excel and build a strong foundation in English literacy.

Being able to witness the progression of our students reading, speaking and then writing marks milestones in their life that we want to be a part of.

How do we achieve this on a consistent basis? It is definitely not by chance or magic. It is a result of deliberate design in the I Can Read System. Unlike most literacy teaching methods which are derived from a diverse range of sources, with no consistent methodology - our system is based on disciplined research, (specifically Linguistics Science) and underlined by in depth research on teaching of English Literacy and Child Psychology.

This is what gives us consistent results.




<!—SCRIPT TO BE ADDED immediately after the opening body tag-->