What is Grammar Booster?
Grammar Booster is a student-led, self-paced eLearning course developed by Native English Educators. Students interact with the content and receive immediate feedback throughout the course as they progress through the levels. A certificate will be auto-generated based on their score and can be downloaded and printed by the student.

Interactive content has been calibrated to provide students the grammar skills necessary for their grade level and to set them ahead of the learning curve.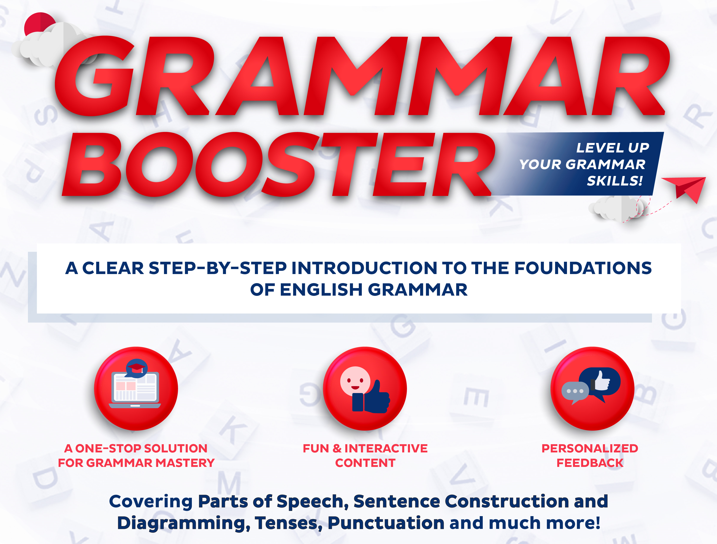 What is the difference between Fun with Grammar Booster and Flying with Grammar Booster?
Grammar Booster has been designed to introduce and boost the grammatical knowledge for primary students of all ages. With this in mind, there are two courses to choose from. Both courses explore the same grammatical concepts but have been designed to suit learners of different ages. You therefore, only have to subscribe to one OR the other based on your child's primary level.
Fun with Grammar Booster is recommended for students in Primary Levels 1-3. There are 20 levels, each taking approximately 20-30 minutes to complete. Each level introduces and builds upon ONE concept, allowing for younger primary students to internalise grammar in a much more focused way. The language and images cater to this age group so that they can understand easily and enjoy the learning process.
Flying with Grammar Booster, comprising 11 levels, is recommended for students in Primary Levels 4-6. Most levels explore more than one concept for composite learning that refreshes and boosts the grammatical knowledge older primary students will have already acquired. The more detailed language is suited for older primary students keeping in mind the pre-requisite knowledge, time required to complete each level and their attention spans.
I have two children in lower primary. Do I need to register both of them or can I subscribe and use it for both my children?
To track their individual progress and to earn individual Grammar Booster certificates at the end of the course, both children will need separate logins. We recommend subscribing one for each child so they can learn at their own pace and get certificates in their own name.
How do I subscribe to Grammar Booster?
Do I have to bring my child around to the centre for the Grammar Booster Course?
No, it is a fully online course. This means that once you register your child, you will receive an email with the login details from the System Administrator of Moodle (via ICR Online) to the email address you provided. Click the ICR Online link, log in, change the password to something you can remember easily, and your child will have access to all the eLearning materials to learn from the comfort of your home.
What if I do not get an email with my access details?
In the unlikely event that this happens, please check the spam/junk folder of the email address you have provided. If the mail from ICRO Admin cannot be located, please email
icro.admin.sg@icanread.asia
. We will send you the access details again.
For how long will my child have access to Grammar Booster?
Once you subscribe, you will receive the access details within 24 hours from ICRO Admin. Your child will have access for three months from the date of registration. This provides sufficient time for students to complete the levels and revisit the content for mastery.
What do I do if my child forgets the username / password?
You can easily retrieve your username and reset your password with these simple steps:
2. Click the Forgotten your Student ID (username) or password link.
3. Type your email in the Email address box and click Search:
You will receive a password reset email from ICRO Admin.
Will teachers guide my child if they have problems in the course?
Grammar Booster is designed to provide immediate feedback to students from within the eLearning levels. Voiceover helps guide them to complete the levels successfully. In case your child requires further assistance, please email
icro.admin.sg@icanread.asia
. We will respond to your email within two working days.
On what device can my child complete the course?
The course can be accessed on any device that can access the internet such as computers, tablets or smartphones. However, for the best learning experience, we recommend using laptops or desktop computers. Students will be able to see the images and text more clearly on computers and interact with the content better than on mobile devices.
Is there any software requirement? Will I have to download any special app or software?
ICR Online is accessible through any web browser. Speakers should be enabled on the web browser so the student can hear the voiceover.
Grammar Booster is having difficulty loading. What should I do?
Please check your internet connection and make sure your web browser and device is up to date with the latest versions. Please note we are unable to provide device technical support.